car care hho gas generator diesel engine oil carbon remover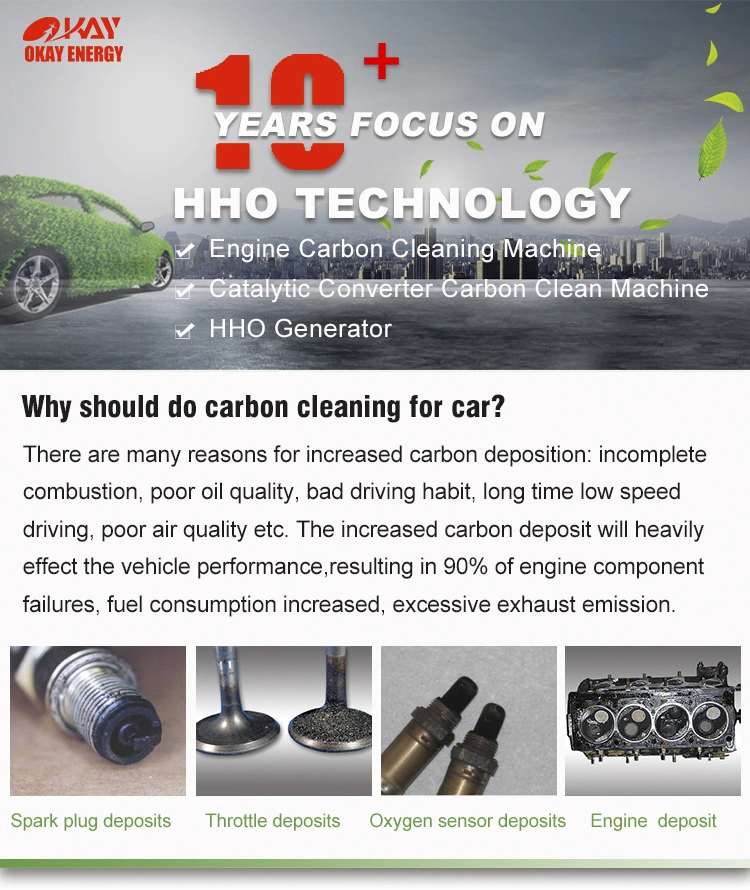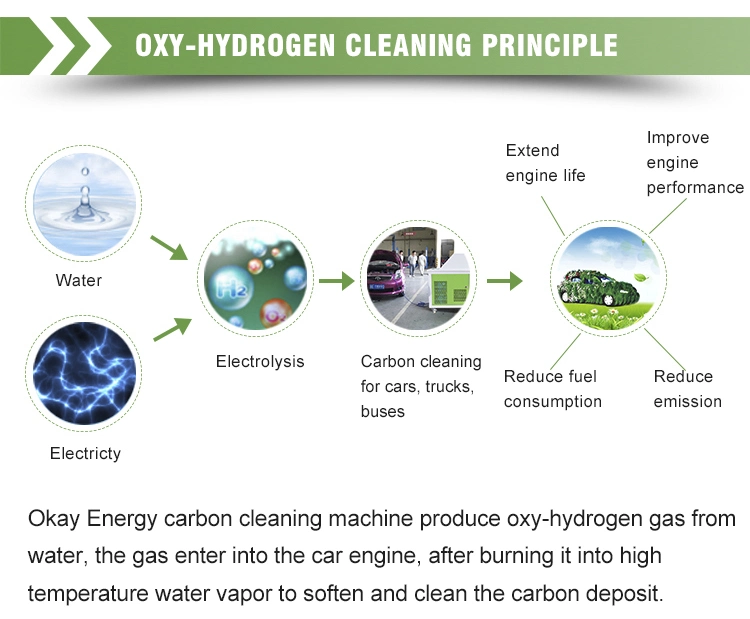 Okay CCS series product specification
| | | | |
| --- | --- | --- | --- |
| Model Number | CCS800 | CCS1000 | CCS1500 |
| AC Voltage Requirement (V) | 220~240V,single phase | 220~240V,single phase | 220/380, 3phase |
| AC Current (A) | <15 | <15 | <15 |
| Rated Power(KW) | 2.5 | 3 | 4.5 |
| Max. Gas Output(L/h) | 800 | 1000 | 1500 |
| Max. Working Pressure (Mpa) | 0.2 | 0.2 | 0.2 |
| Max. Water Consumption (L/h) | 0.43 | 0.53 | 0.8 |
| Weight (kg) | 65 | 100 | 180 |
| Machine Designe Feature | van mobile carbon cleaning service | van mobile carbon cleaning service | car garage/workshop carbon cleaning service |
| Dimensions - L*W*H (mm) | 660*550*800 | 590*740*1040 | 1070*670*1200 |
Product Description
Newest Version, Most Advanced Only One Manuacturer In CHINA! PLC full miro-computer control system + Wireless detection technology + Touch Screen
Okay Energy carbon buildup cleaning automobile carbon cleaner machine
Instead of traditional Disassembly and Foam Or Chemical liquid cleaning methods
1. consumes water + electricity to create oxy-hydrogen gas
2. input the oxyhydrogen gas into engine
3. cleaning time just 15 mins
4. remove the accumulated carbon and increasing the combustion efficiency of the existing fuel.
5. draining from exhaust pipe.
No need to remove engine, No harm to engine and human and environment. Save much cost.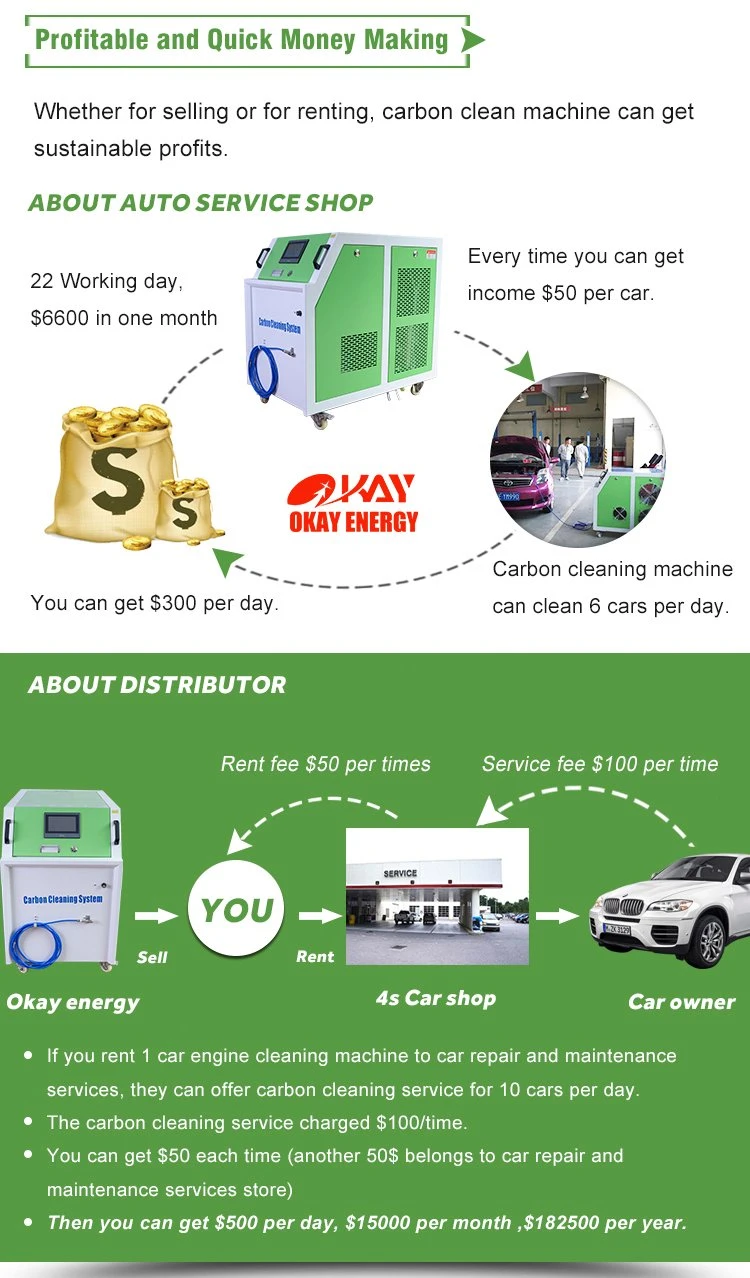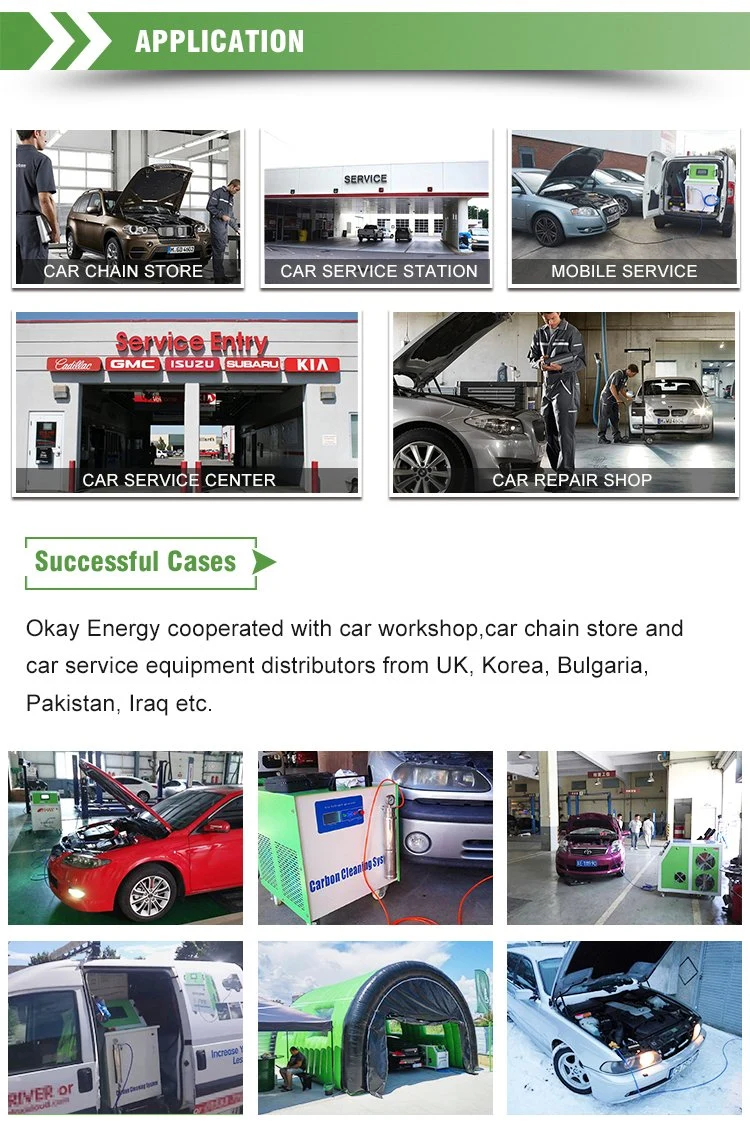 The effect of oxy-hydrogen engine carbon cleaning service
1. Good car engine performance.
2. Stable idling.
3. Remarkable fuel saving.
4. Exhaust black smoke disappeared, achieving emissions testing standard.
5. prolong engine parts life.


Why do i use the engine carbon cleaning for car?
1. High efficiency
The results are more low RPM power in a smoother running and more efficient engine.
2. Environment Friendly
No medical component, no corrosion to auto parts, no any side effects, no generate hydrocarbons, carbon monoxide, or carbon dioxide.
3. Convinient for removement
Our Oxyhydrogen Generator is equipped with wheels for convinience.
4. Easy Operation
No need to disassemble engine and engine oil filter element. Oxy-hydrogen carbon cleaning is full automatically process. The machine will remind and stop gas production when carbon cleaning finished.
5. Save time and Low Cost
Working time only 15 mins. Energy Saving more than 30% compared with traditional carbon reducing methods.



How to operate CCS engine carbon removal machine?
operation video pls click:http://okayenergy.en.made-in-china.com

Test Report
Car Brand: HAIMA (Chinese Brand)
Miles Traveled: 75,521 km
Test Date: 2012/11/15
Test Item

Before

After

Reduction Rate

MAX

AVE

MIN

MAX

AVE

MIN

MAX

AVE

MIN

HC (PPM)

205

196

175

65

56

48

68.3%

71.4%

72.6%

CO (%)

2.00

1.42

0.94

0.06

0.05

0.05

97%

96.5%

94.7 %

CO2 -(%)

13.0

12.5

12.1

9.8

9.7

9.6

24.8%

22.4%

20.7%
Conclusion:After using OKAY oxyhydrogen gas car engine carbon cleaning machine,carbon build-up is completely cleaned away,engine efficiency is increased,power and performance are restored,life expectancy is improved and engine emissions are reduced. The accelerator becomes light horsepower is increased.
Reduce HC discharge (hydrocarbon) by 60.42%, CO 16.67%, CO2 20%. The fuel oil can be saved immediately by 10% and reach to 20% after running 500km.

FAQ about engine carbon cleaning machine
Q1. Why I need to carbon-clean my car?
A1:Incomplete combustion causes carbon deposits in your vehicle engine. The carbon is one of reasons of high fuel consumption, poor engine performance and increase exhaust emissions.

Q2. What type of car can use your service?
A2:All petrol, diesel or LPG vehicles trucks buses.

Q3. Will your service harm my car engine?
A3:Absolutely not.Our service had been tested and proven effective. Furthermore, it is being backed by a US$1million "Product Liability Insurance."

Q4. When I need to carbon buildup out of engine
A4:We recommend servicing your vehicle every 15,000km or 6 months, whichever come first.

Shipment and Package
About shipping We have long-term cooperated shipping counrier providing one-stop safety and quick shipping service.
Flexible Shipping method by international express(DHL,Fedex,UPS etc),by air,by sea as your requirement.Or using your shipping forwarder.
About Package Standard export package,1set/carton;For industrail larger machine,1set/woodern pallet;

Okay Service
1.24hour online chat,email or phone support for inquiry,technical and after-sales service;
2.Warranty:1year.(The core part of machine for 1year.The other parts of machine for half of year in addition to human damage;
3.online trade assurance service(Protection buyer's payment regarding on-time delivery and product quality.)

Company Introduction
Okay Energy,the first oxyhydrogen generator in China,we have researched and produced
hho generator for more than 10 years.
Main products:
Oxy-hydrogen Generator,HHO Generator Kits,Carbon Cleaning System,Catalytic Converter
Cleaning Machine,HHO welding Machine, ampoule sealing machine,hho boiler for heating etc.
Agents/Distributors/Dealers are warmly welcomed!
Changsha Okay Energy Equipment Co.Ltd
Adress:No.27,Wenxuan Road,Yuelu District,Changsha City,China
Tel: 0086-731-83979221
Web: okayenergy.en.made-in-china.com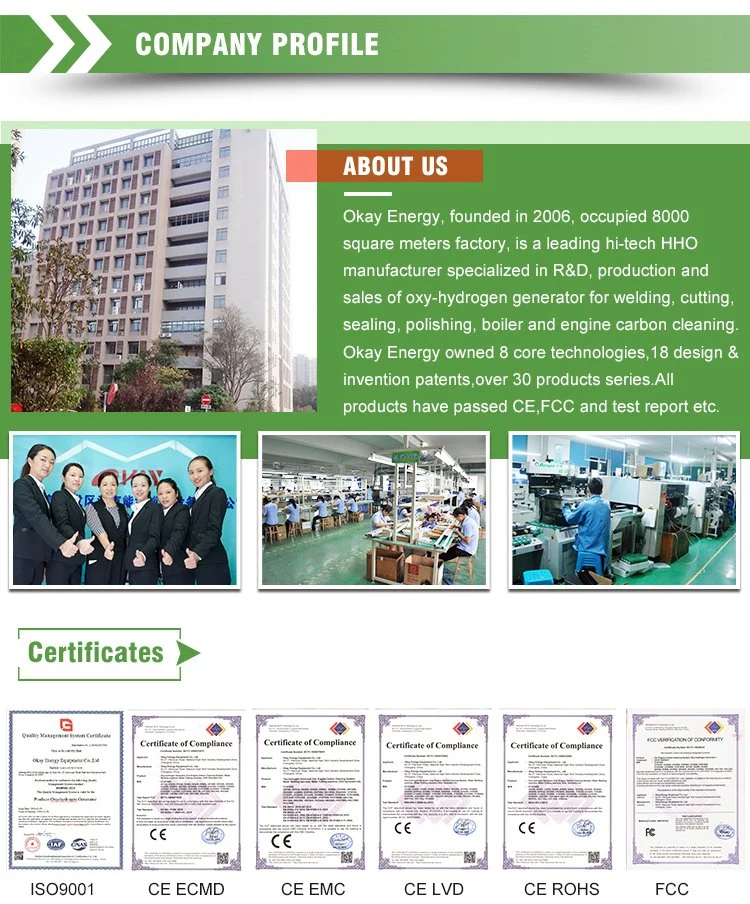 Welcome contact us if you still have any other question!