Factory Supply HEC Self-Leveling Mortar Agent
Yida hydroxyethyl cellulose (HEC)SK300 Yida scientific research team specifically for the texture paint, latex paint development of a product, product thickening suspension effect is good, high water retention rate, a small amount of addition, low product unit price can reduce the production cost.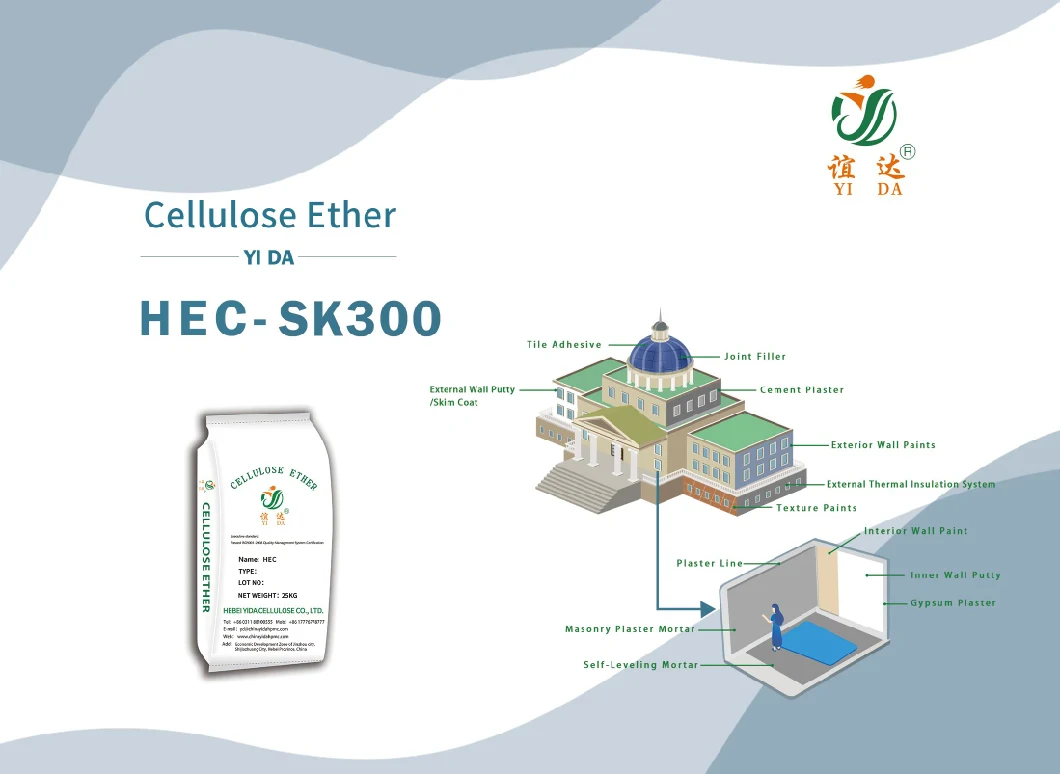 Specification
Type

SK300

Appearance

White or light yellow powder

Granularity

98% pass 80 mesh

Water content /%

≤5

PH value

6

-

8

Viscosity (2%

,

20ºC)

28000-32000
Detail Photo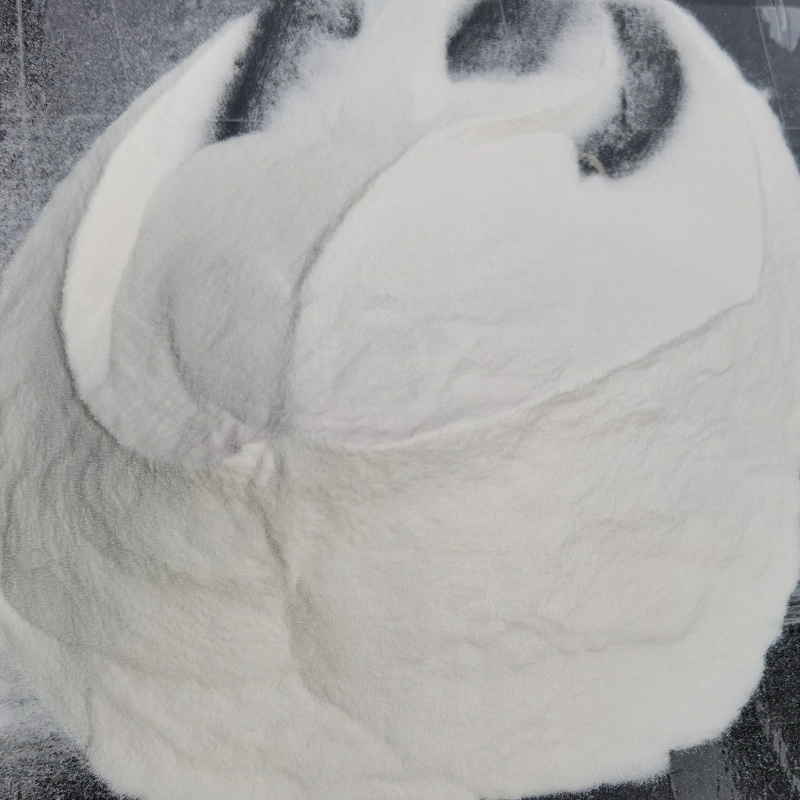 Appilication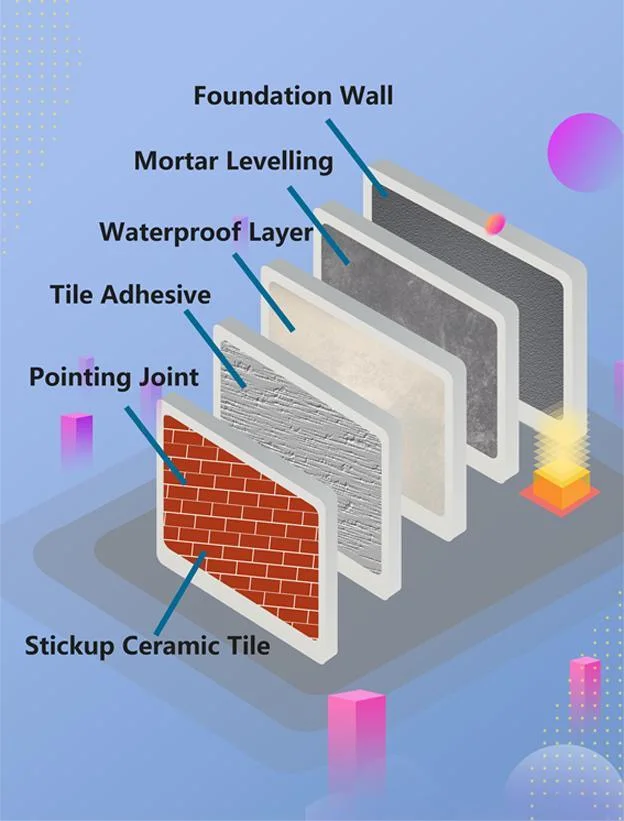 SK300 is widely used in the production of latex paint and textured paint for internal and external walls.
| | | |
| --- | --- | --- |
| System kind | The test content /‰ | State Description |
| Interior wall latex paint | 3 | Thickening suspension effect is good, no stratification |
| Exterior wall latex paint | 2 | Thickening suspension effect is good, no stratification |
| Texture paint | 1.5 | Good spray, less sand fall |

Adding Mode:
(1) Pre-dissolve in other containers beforehand. The specific steps are to weigh water, stir with electric drill, and slowly add hydroxyethyl cellulose until it is completely dissolved. Pour the predissolved cellulose solution directly into it in the formal production process.
(2) Sprinkle hydroxyethyl cellulose directly and slowly in the production process until it is completely dissolved
(3) half pre-dissolved, half sprinkled in the mass production process
Either in the preparation of pre-solution or in the production process directly sprinkled with hydroxyethyl cellulose, do not pour all at once, can only use a vessel or hand slowly sprinkled, as far as possible to avoid cellulose agglomeration.
In the production process without adding hydroxyethyl cellulose before adding multifunctional additives, otherwise cellulose is easy to agglomerate a knot.
Production Line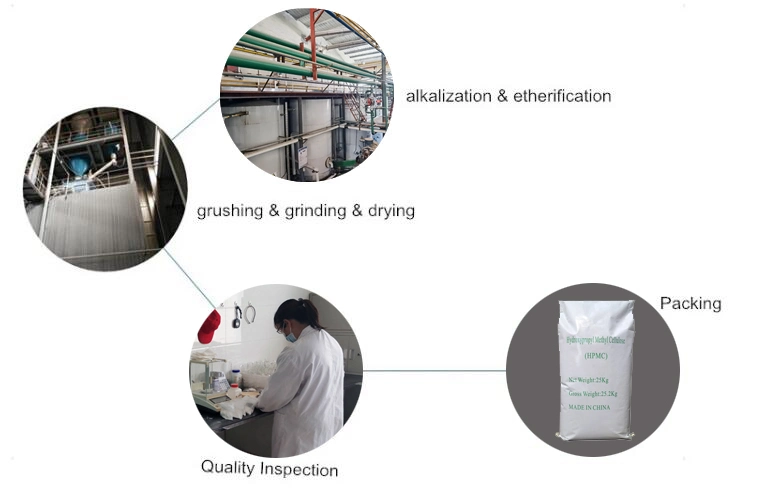 Packing and Delivery
★Packages:

PP bag with inner PE bag, Net Weight: 25 kgs


★Storage:

After the product is opened and used, it must be sealed in time. This product is thermoplastic, so it should be stored in a high-temperature environment to avoid pressure. Otherwise, it will easily cause agglomeration. Sealed and stored in a cool and dry place at 0-40ºC, and the storage time should not exceed 24 months.
★
Shipping:

Shipping as non-danger goods.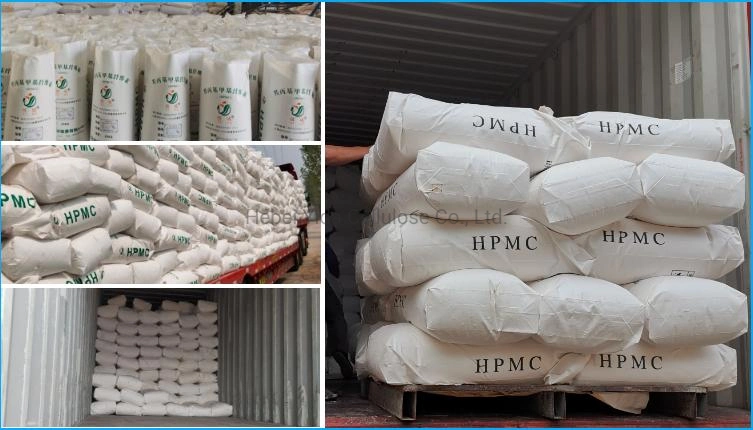 Company Profile
Hebei Yida Cellulose Co., Ltd. is a comprehensive enterprise integrating scientific research, production, sales, and after-sales. The factory is located in the Economic Development Zone of Jinzhou city, Hebei Province, China. It covers an area of 80,000 square meters, has fixed assets of more than 14 million us dollars, 268 employees, 12 new product research and development personnel, 28 senior technical personnel, 10 professional after-sales service personnel, and national elite sales With 8 teams, it is a modern professional enterprise focusing on R&D investment, technological innovation and after-sales service.

The company mainly produces hydroxypropyl methyl cellulose (HPMC), hydroxyethyl methyl cellulose (HEMC) and redispersible latex powder (VAE) and other products. The professional R&D team independently researches and develops high-stability and super-quality product formulas based on customer geographical differences, industry differences, product differences, and other factors. It is equipped with world-class production equipment, uses German horizontal kettle "one-step" production technology, and fully automated production lines. , Implement a complete and strict production testing process to ensure that the product quality tends to the international level. The annual output of Yida cellulose (HPMC, HEMC) can reach 15,000 tons, and the annual output of redispersible rubber powder can reach 16,000 tons. In 2010, it passed the ISO9001: 2008 quality system certification.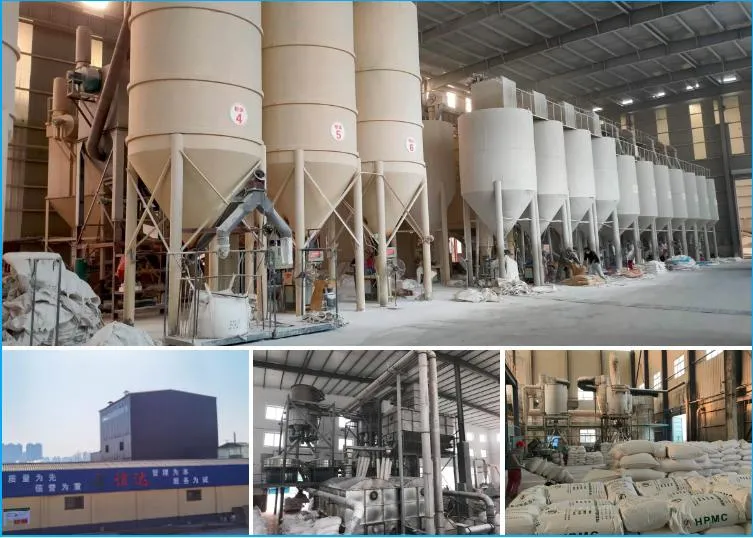 Our Team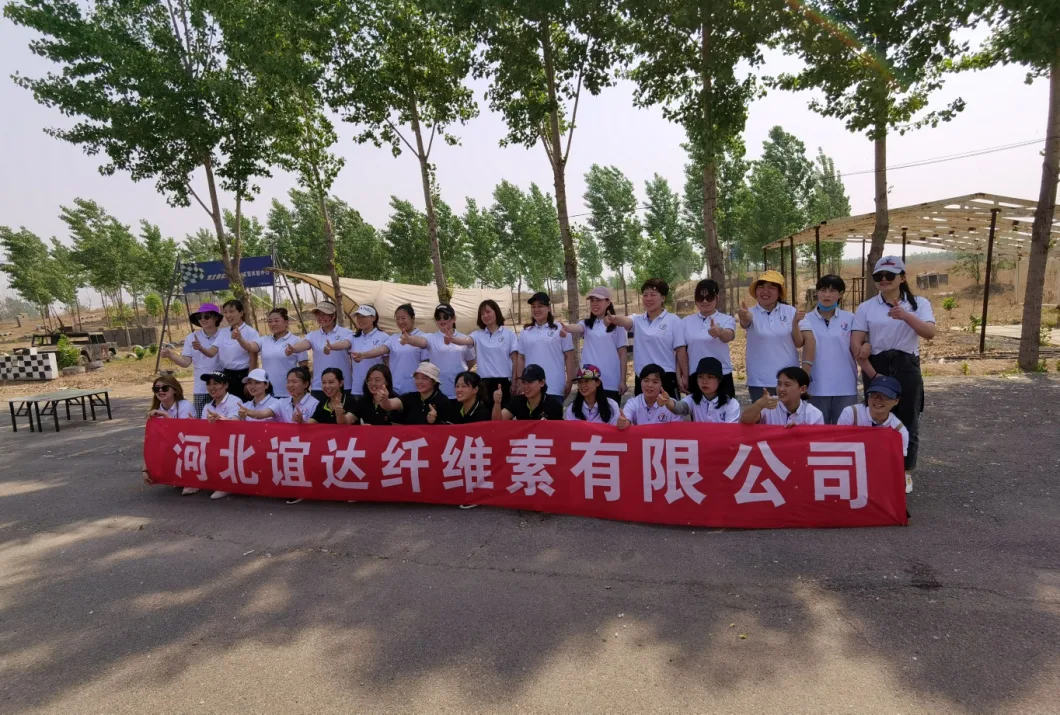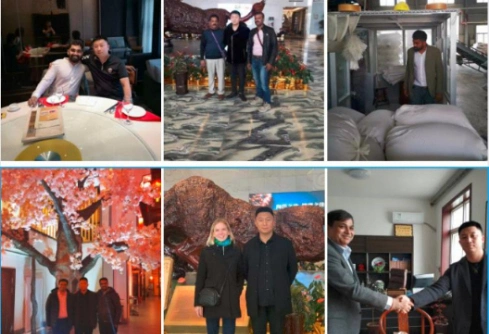 FAQ:
Q: Are you manufacturer or trader?
A:We are a professional manufacturer of HPMC , we have 13 years of production experience, you can buy assured products.

Q: what is your terms of payment?
A: TT is our prior option,LC and West Union can be accpetable also.

Q: What is your terms of delivery?
A: EXW, FOB, CFR, CIF, DDU.

Q: How about your delivery time?
A: We can deliver the goods the next day at the soonest, and the latest will not be more than 9 days.
Such a fast delivery time depends on our strong production capacity, which is not affected by the environmental protection and the shutdown, so if you want to find a stable supply of goods to choose us is your right choice!


Q: Can you provide samples ?
A: The confirmation of samples is a necessary part of our cooperation,
welcome you to ask for samples for us. We can provide samples to customers for free.

Q: Do you test all your goods before delivery?
A: Yes, we will carefully test the products before delivery, and we will also test the products for application test. It is our advantage to test the products for application test before delivery, which ensures that the products delivered are 100% qualified.