Wholesale Factory Chinese Furniture 5 Star Hotel Anti-Pilling Mattress
Our is One Stop Custom Project Supply,Makes it Different functions
Mattress chart makes it easy to find the perfect size for your Mattress,Matching Plush Mattress,Extra Plush Mattress,
Soft Hard Dual-Purpose Mattress,Medium Mattress,Extra Firm Mattress , Firm Mattress and Folding Bed.Foldable
Type Customization,Horizontally Foldable Type,Vertically Foldable Type,Multi-Fold Customization,Special Shaped
Customization Any Size,Special Angle ,Spliced Type Customization.To shop the collection click Mattress View
Product Detail .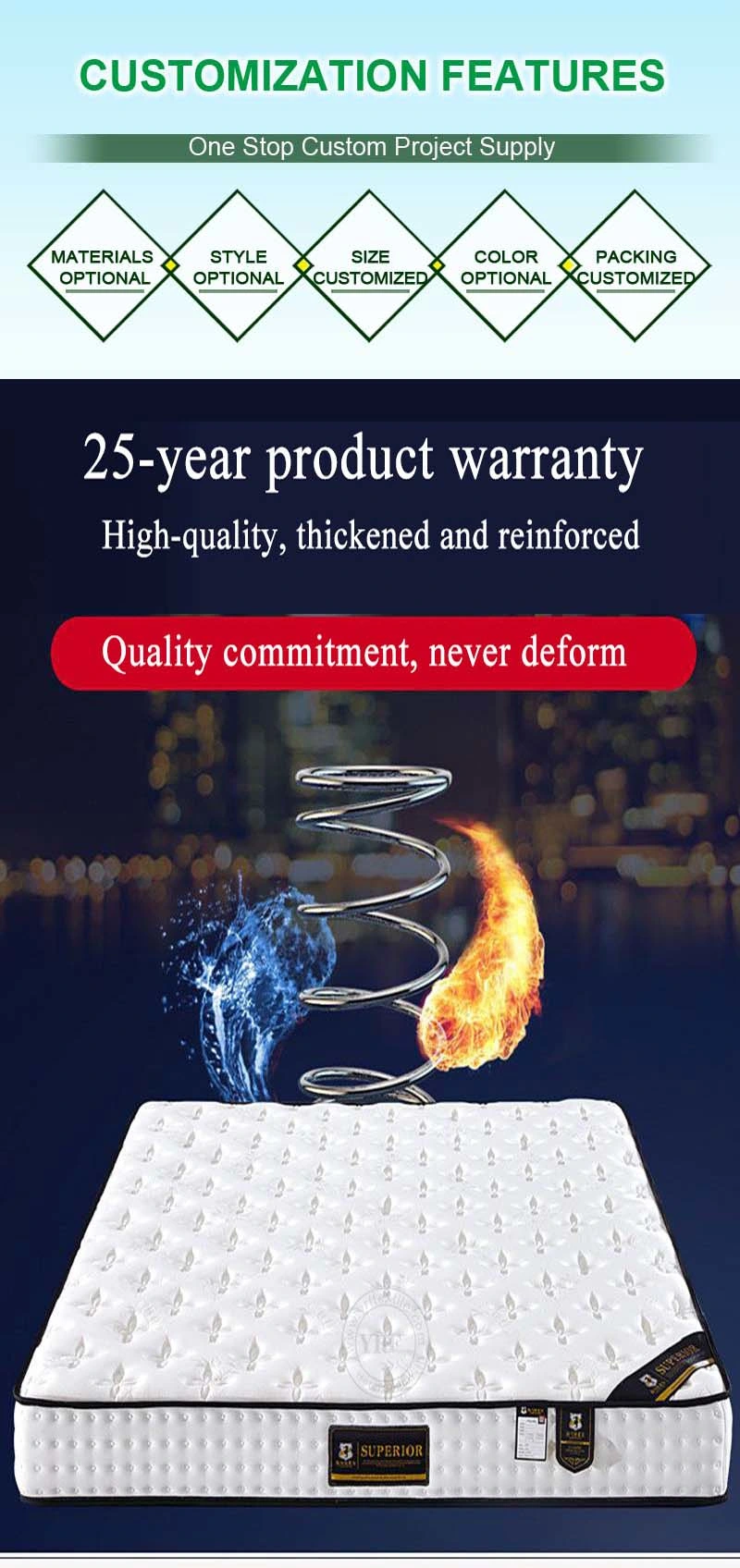 The Mattress 3 Star Hotel Bedroom Comfortable fabric function:
"The Healthiest Way To Sleep YRF's fabric can effectively inhibit pathogenic bacteria and allergens, while not
harming beneficial organisms and skin flora.A lot of dust and dirt are hidden in your bed through the air, creating
an ideal living space for harmful pathogens."General antibacterial substances kill harmful bacteria and also remove
some beneficial bacteria. But our active fabric, which is based on probiotics,can cut off the opportunity for harmful
bacteria and fungi to grow and reproduce. It reduces unpleasant odors and dust allergens, as well as the growth
and formation of bacteria.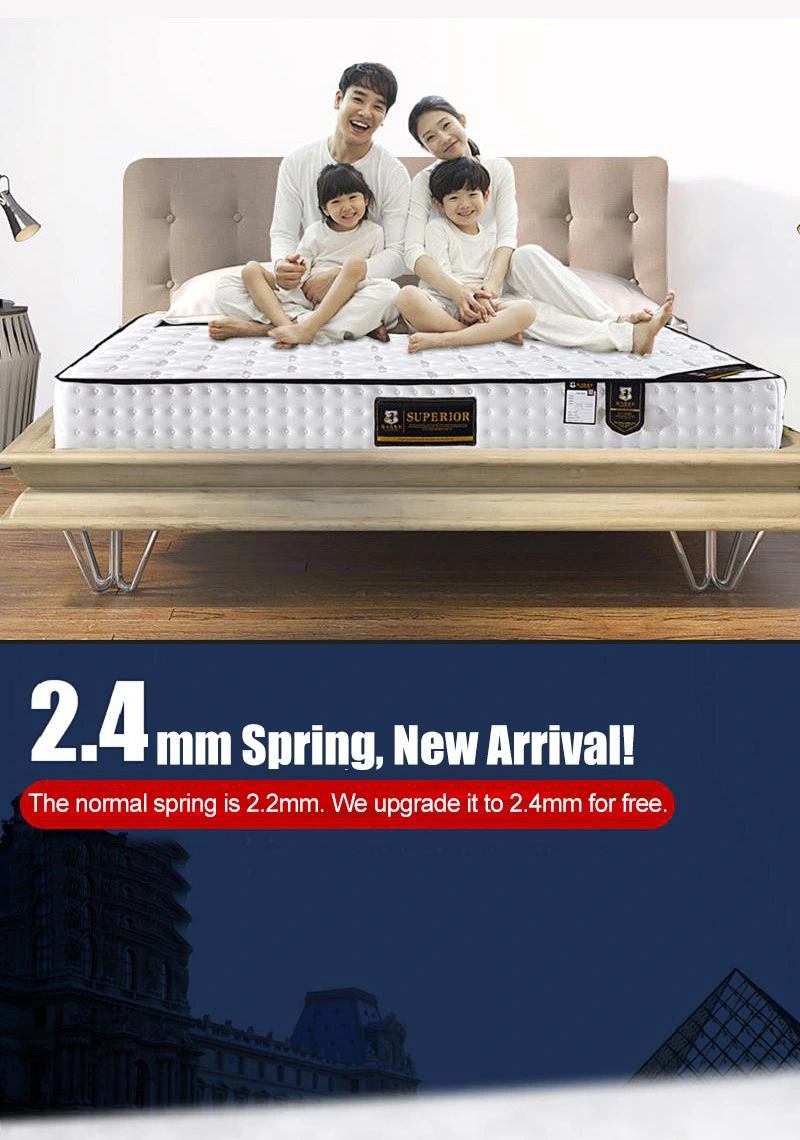 we are a manufacturer and have been producing mattresses since 2007, and we believe that you should sleep on
Mattress Comfortable Foam, durable materials, because we know how hard it is to find the perfect mattress that
suits you.We believe that everyone should have a good sleep and be refreshed after a night's rest.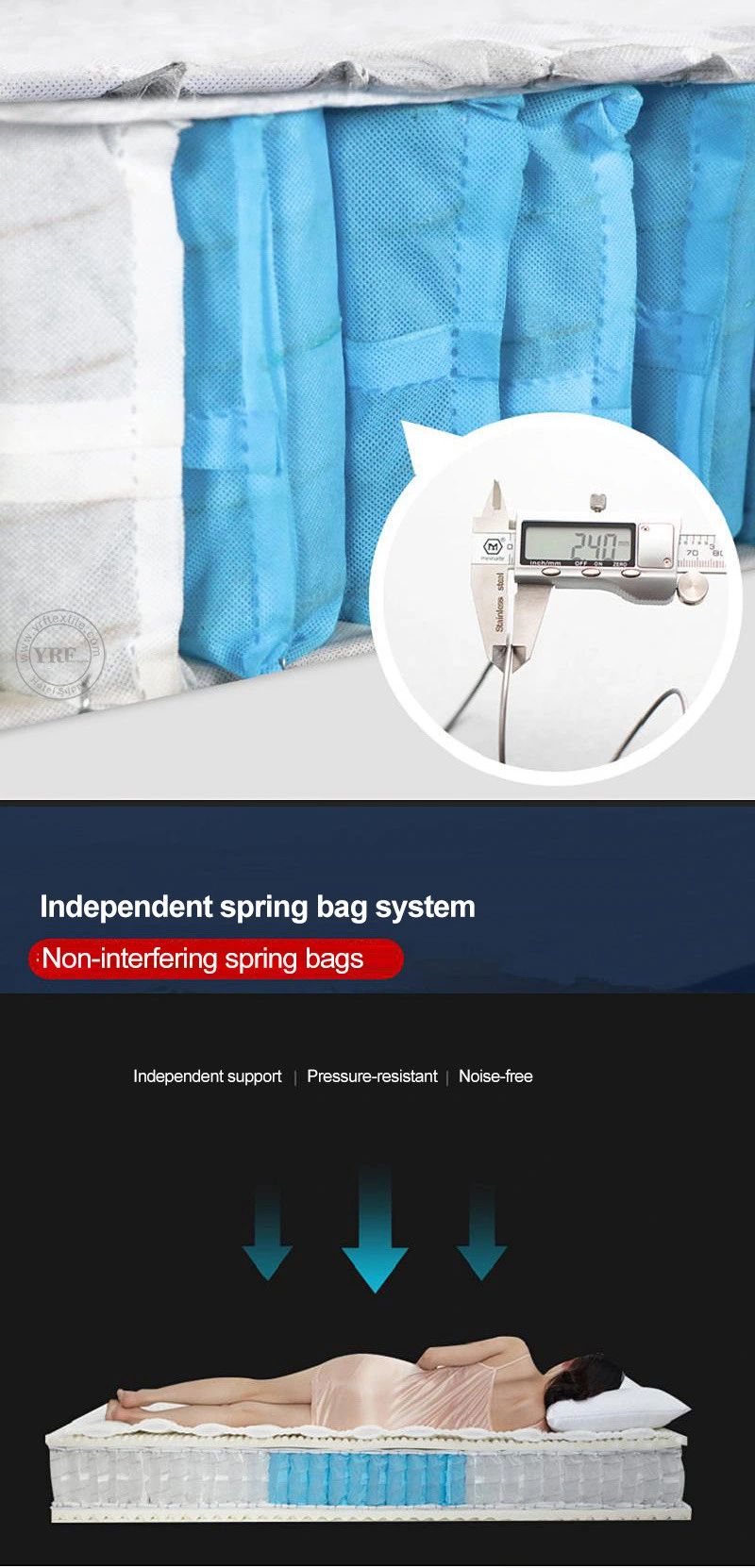 Name

Wholesale Factory Chinese Furniture 5 Star Hotel Anti-Pilling Mattress

Brand

YRF

Model NO

5887

B-A

Thickness

22

c

m

/Customized

IF Detachable

Yes

IF Customizable

length.width.thickness and foldable types are all customizable

Softness

S

oft & comfortable

Fabric Front

A

nti-mite knitted fabric

/ base cloth 3D breathable fabric.

Filler

H

igh-density foam, natural latex, 3E coconut fiber.

Advantages

1.

S

kin-friendly and breathable




2.Strong r

esilience

/

H

ealthy sleep /

N

oise-free




3.

A mattress that fits the curve of your spine

Size

Twin - 39 x 75 inch ( 99 x 190 CM) Twin XL- 39 x 80 inch (99 x 203 CM)




Full - 54 x 75 inch (137 x 190 CM) Queen - 60 x 80 inch (153 x 203 CM)




King - 76 x 80 inch (198 x 203 CM) California King - 72 x 84 inch (182 x 213 CM)

Packing

Thickened brown paper / PVC waterproof film / Double-layer brown paper

Delivery

About 10-20days after received deposit confirmed for container.



The For Single Bed Mattress 3 Star Hotel Bedroom material advantages:
Thailand latex Soft & comfortable ,Pressure relief Spine protection,7-level purity of latex concentrate Accord with
five international standards,Bacteriostatic Noise-free,Thermal & breatable,Nice fragrance Help sleep,Zero-pressure
feather fabric.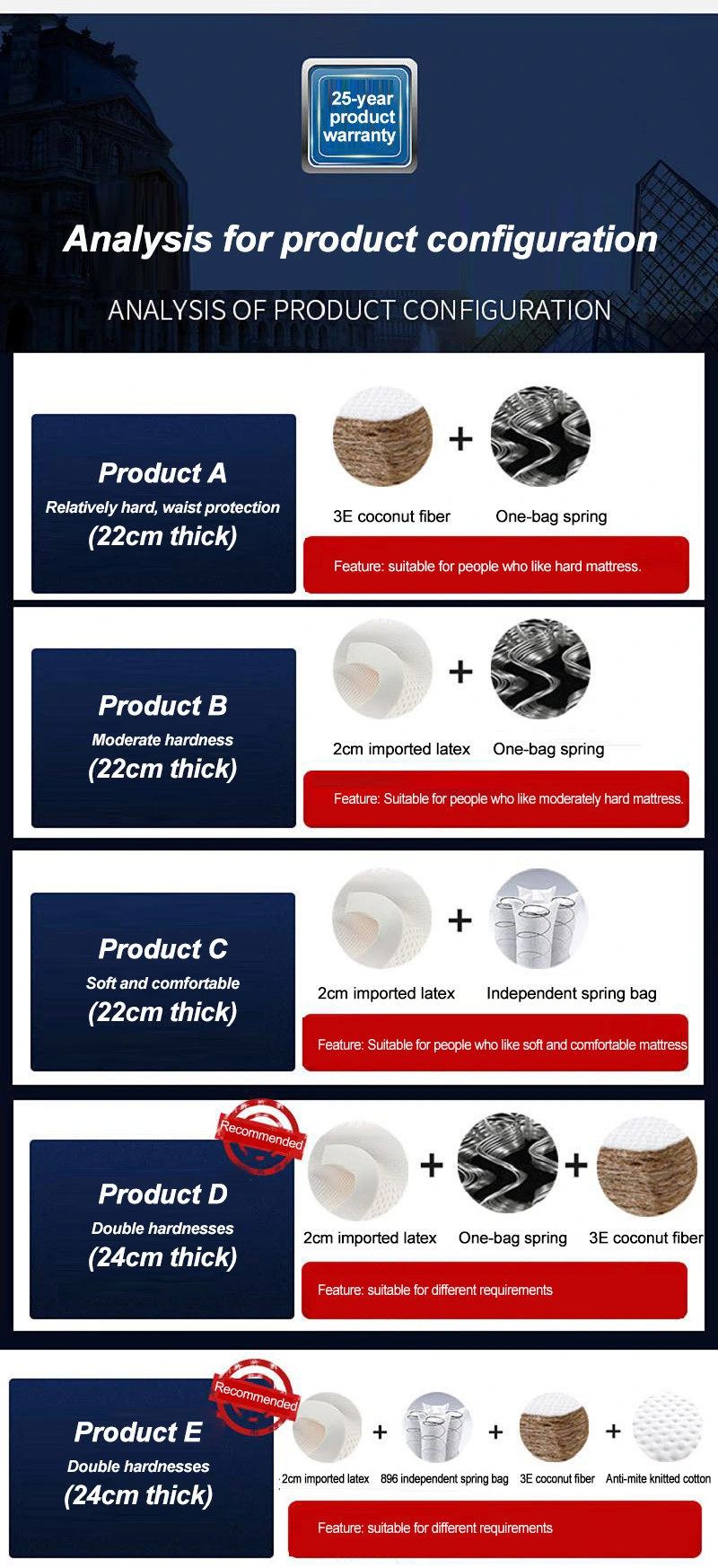 The 3 Star Hotel Bedroom Mattress Comfortable is promise it is designed to keep your vertebrae supported.We
owe this to comforts 3 zone independent pocketed Spring design ensures that your body weight is evenly
absorbed and distributed comprehensively from head to toe throughout the mattress. Also provides the targeted
support to your body, proper back support & alignment. The gel memory Foam layer for slowly adjusts to body
weight & temperature,it provides a buffer so you never feel the coils for optimal comfort.





Comfortable Mattress Foam are Increase supporting power, higher elasticity, soft without injury Exquisite edging,
Firm, durable and fashionable,Analysis of internal materials





Foam Mattress Spring Advantage
Skin-friendly fabric,Comfortable/soft/breathable.
High-density memory foam 3rd layer: non-deformation memory foam.
4th layer: 3D breathable layer,Open my "inner " for you to check.
1st layer: Air layer knitted fabric,2nd layer: Pressure-proof polyester fiber.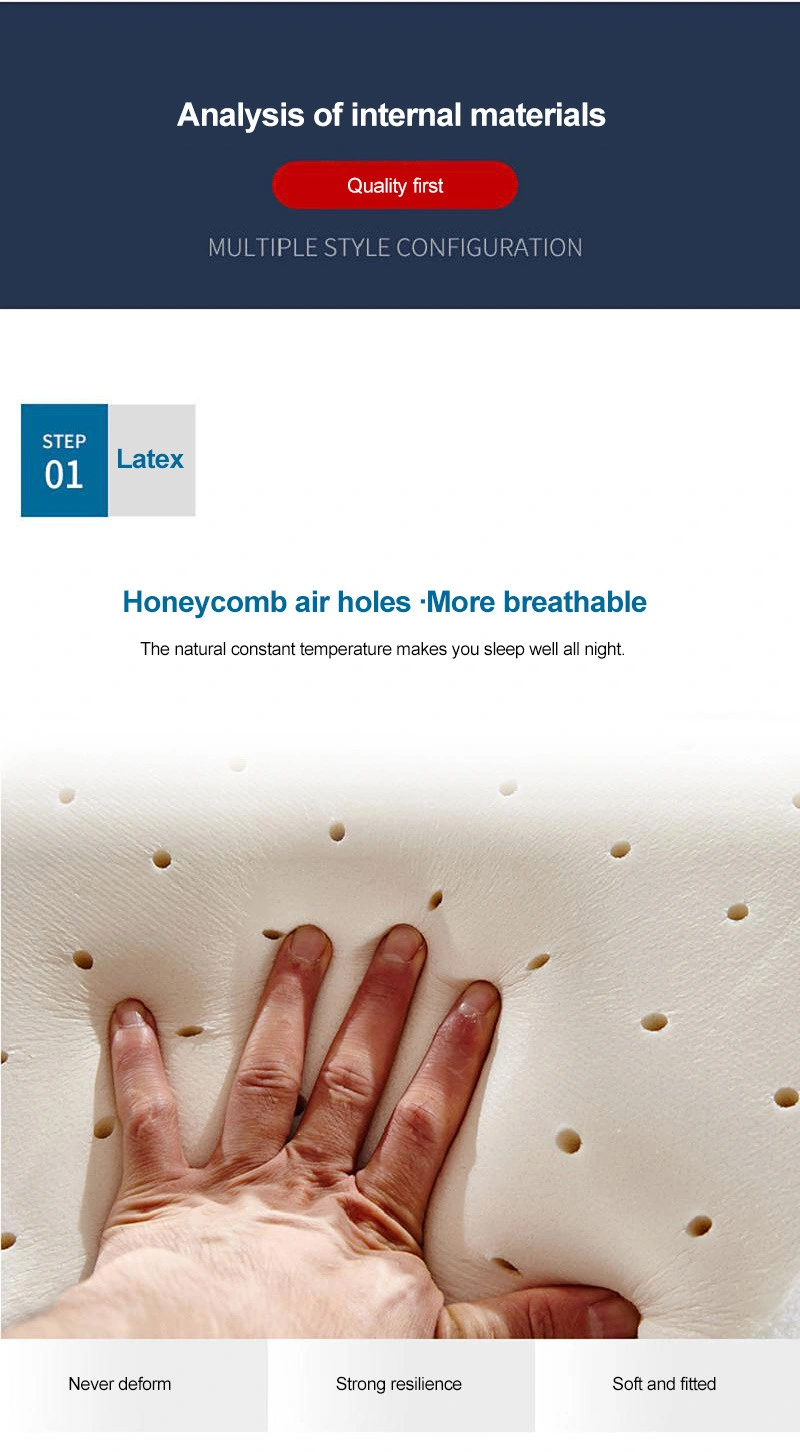 The Spring Mattress For Single Bed are Certified Safe: Mattresses are certified by CertiPUR-US, ISPA and Oeko-
Tex Standard 100 without harmful substances like formaldehyde, mercury, and other heavy metals, ensuring a no
concern sleep