Flake Ice Machine 3000kg/24hour Ice Flake Plant for Asia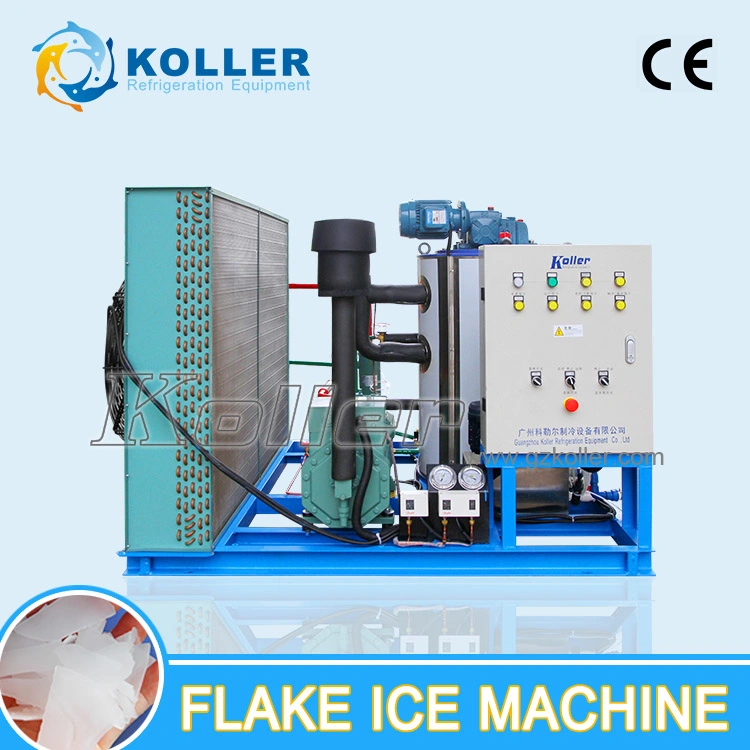 (1) Flake Ice Machine Features:
1. Automatic monitoring system: Intelligentized PLC control, don't need to arrange people to monitor the machine
2. Emergency Alarm: It makes you know immediately once the emergency happens
3. Cable Channel: All the wires packed in stainless steel channel, protects the wire, also makes the machine look neat and tidy
4. Energy Guide: You can see clearly the energy consumption of the machine
(2) Flake Ice: Flake ice is dry, pure, powder-less, not easy to melt and its temperature can reach -5 degrees. Its thickness is about 1.5mm-2.2mm, without edges or corners which can produce the cooling food, fish, seafood ad other products
(3) Evaporator Drum: Use stainless steel 304 or carbon steel chrominum. The scartch-style system of inside machine ensures constant running at the lowest power comsumption, exquisite welding and processing technology ensure high-efficent heat transfer and energy saving.
(4) Application: Freshwater Flake ice makers for Fishery, seafood processing.
(5)Installation:
1. Installing by the user: We will tested and install well the machine before shipment, all necessary spare parts, operation manual and CD are provided to guide the installation.
2. Installing by Koller engineers:
1) We can send our engineer to assist the installation and provide technical support and train your workers. The end-user provide accommodation and round-trip ticket for our engineer.
2) Before our engineer arrived in your site, the installation place, electricity, water and installation tools should be ready. Meanwhile, we will provide you a Tool List with the machine when delivery.
3) All spare parts are provided according to our standard. During installation period, any shortage of parts due to the actual installation site, the buyer is required to afford the cost, such as water pipes.
4) 2~ 3 workers are required to assist the installation for big project.
5) Any delay due to customer's reason, it will be charged from the 8thday, USD100/day for one person as installation fee. Free of charge for one week. Warranty: 12 months after the delivery; During the warranty periods, if there is any malfuction, we would try our best to solve the problem at our fastest speed. If some spare parts are needed to be replaced without artificial damage, then we would provide the spare parts free of charge. We also provide the life long technical support.